Omgeo has acquired Global Electronic Markets (GEM)'s derivatives portfolio reconciliation platform.
Omgeo will leverage GEM's FpML Mediator technology and support a centralized derivatives portfolio reconciliation service. This service will provide significant value to the market by combining the market-tested capabilities of GEM's robust technology with Omgeo's opertional expertise in automating trade life cycle events and creating efficient global communities.
Click to read more
Click to read the complete press release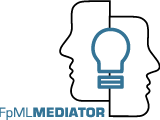 Purpose
One of the biggest current challenges of derivatives processing is ensuring that all parties involved in a derivatives deal agree on the exact terms of the transaction. Ensuring that these terms are represented correctly and unambiguously is critical, particulary for ensuring that the match is correct. As the deals are modified, increased, partially terminated, or novated, keeping track of the current deal stock can be difficult, and verifying this against inventories held be other parties is nearly impossible. Existing tools and servicesfor matching and validating derivatives are limited in capability and scope, causing extensive manual work in reconciling and matching derivatives transactions, and increasing the operational risk associated with trading in derivatives. FpML Mediator exists to address these challenges.
Resources
Read a FpML Mediator Case Study, or download the FpML Mediator product brochure. To see a demonstration, go to the Gem Demo Site.
Sample Mediator Difference Display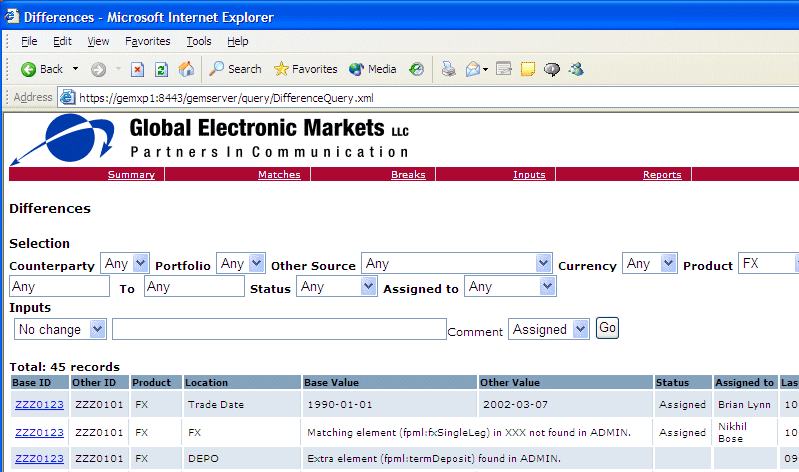 ---
Description
FpML Mediator includes GEM's matching technology with the validation technology of Message Automation's xlinkit toolset.
Features
Reconciles OTC data for any FpML product across multiple sources
New for 2.0 - a web-based user interface allows reconciliation results to be:
Queried by various filtering criteria, such as product or currency
Assigned to individuals for follow-up
Compared across sources
Differences can be highlighted on a trade-ticket display.
Matches FpML 1.0-4.x documents, including matching across FpML versions, plus the DSWG extensions. Accepts flat format (.csv) files and converts them to FpML.
Validates FpML 3.0 and 4.0/4.1 documents, other versions on request.
Reconciles user extensions to FpML without software development!
Reports matched documents and inconsistencies in a high-level format.
Reports validation errors in a high level format
Supports the FpML 4.0 matching and confirmation messages.
Supports trades recorded from either point of view, in any order
New features coming in version 2.0!

Even faster and more scalable!
Match large data sets at 50++ trades/second!
Support multiple trades per document.
New features to better support DSWG format.
Reconcile CSV files (flat files) against FpML.
Better namespace support.
Finer control over matching policies.
New query functionality, incorporating GemVault features.
Web services interfaces.
Sample Mediator V2 Display of Differences on Trade Viewer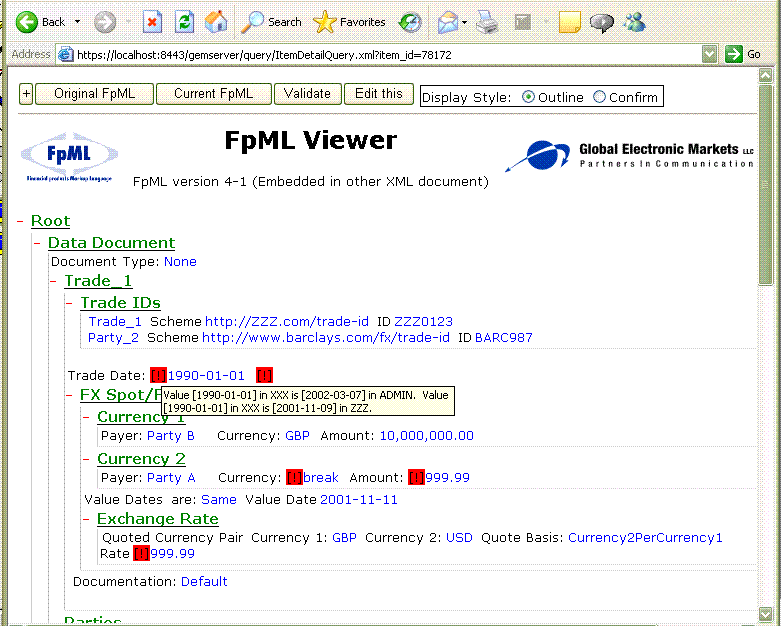 ---
Technology
FpML Mediator is based on Java 1.3+. FpML Mediator is optimized for high-speed, high-volume FpML processing application applications, and can match thousands of documents in a few minutes.
Matching plus reconciliation performance is typically 1000 trade pairs/minute or better for portfolios of thousands of trades on a single CPU Xeon computer.
Message processing performance is 10-15 trade pairs/second on a 2 CPU server.
Applications
Reconciliation between multiple trade capture systems (e.g. between the two counterparties' representations, or between that of a broker or agent and a principal.)
Reconciliation between existing systems or databases.
Analysis of amendments.
Comparison of document versions during the negotiation of terms
Portfolio matching, e.g. for collateral purposes.
Availability
FpML Mediator 1.0 is available now. After extensive testing by our clients, FpML Mediator is now in production service.
FpML Mediator 2.0 will be demonstrated at the annual FpML conference in New York in October.
For more information
To get an evaluation version, go to the Gem Demo Site.