Purpose
The GemScribe FpML viewing/editing suite allows people to display and modify FpML documents easily using standard web browser forms.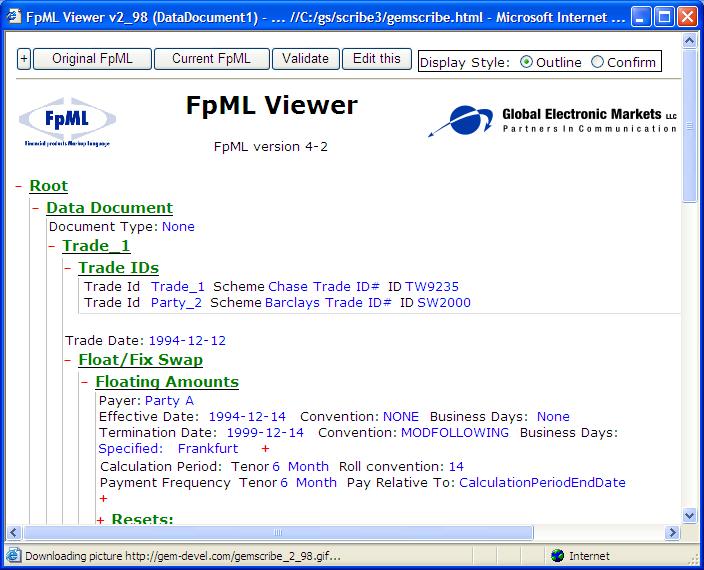 Description
GemScribe is a Microsoft Internet Explorer-based application. It uses Microsoft XSL to display documents and HTML forms and Javascript functions for editing them. It requires little or no installation for IE 6.0 users; it is also compatible with IE 5.x with the installation of a free upgrade to MSXML.
Please see the Gem Demo Site for an online demonstration of GemScribe.
Features
Flexible and powerful displays focused on real FpML examples, including ones drawn from the FpML standard specifications.
Use of standard editing controls such as drop down lists to select values from lists, check boxes for turning features on/off, and radio buttons for selecting from predefined alternatives.
Outline-based display for quick navigation.
Ability to load and display FpML documents from the Windows file system or from web (HTTP) servers.
Ability to write FpML documents to the Windows file system or web (HTTP) servers.
Customizable appearance using high-level templates
Can be linked into browser-based applications.
Technology
Internet Explorer 5+, MS XSLT 3.0+, Javascript
Applications
Creating sample documents to test new FpML applications
Displaying test documents created by new FpML applications.
Displaying FpML documents supplied by counterparties, brokers, or external trading platforms
As part of a web-browser based trade capture system.
As a base for other trade displays, such as trade differences, pricing or hedging displays, etc.
Quality Assurance
Key risk areas are tested using automatic regression testing scripts. For example, FpML examples are translated to HTML for display and this is regression tested using automated processes.
A QA and beta release process is followed for new versions of the software.
An internet-based defect reporting and tracking system is provided.
Status and Plan
Selected by ISDA, the International Swaps and Derivatives Association, to be the basis of an FpML editor to be distributed to its members.
Version 3.0, to be released in October 2005, covers all products in FpML version 4.2, including:

Interest Rate Swaps and FRAs
IR Options (swaps, caps/floors, plus swap break clauses)
FX forwards, swaps, and options
Term deposits
Credit Default Swaps
Equity options
Equity swaps

A version suporting Data Standards Working Group (DSWG) position reports is currently in test and will be available shortly
Availability